A Trusted Pneumatic Valve Supplier
Pneumatic valves control the flow of compressed air and come in multiple configurations, allowing you to create a complete air system perfectly tailored to your performance and application requirements.
Universal Power Conversion, Inc. is a Pneumatic Valve distributor with a reputation for stocking products from trusted brands. Select from manual, solenoid, and air-piloted Pneumatic Valves in manifold or in-line configurations. We also offer terminal valves with DeviceNet and Profibus capabilities. Choose one of the following options below to see a complete listing of our in-stock products.
Pneumatic Valves Files
Airtec Valves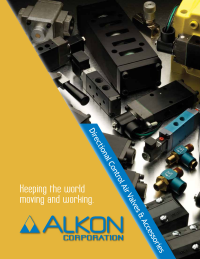 Download
Pneumatic Vales for Compressed Air Systems
We offer Pneumatic Valves and components in a variety of configurations to regulate flow through your system. Learn more about each Pneumatic Valve type and associated application below or
contact a Univers