Manual Valves
Manual air control valves are ideal for non-electrical and operator-controlled pneumatic applications. Manual valves come with different actuator types to accommodate your mounting requirements. These valves have a 4-way design to pressurize and exhaust two ports independently.
2 Position, 3-Way/2-Way Manual Pneumatic Valves: often used for on/off or diverting flow applications.
2 Position, 4-Way Manual Pneumatic Valves: Used to start, stop or reverse the direction of air flow.
3 Position, 4-Way Manual Pneumatic Valves: Used to start, stop or reverse the direction of air flow. These valves in the center position can have an open or closed center. That provides a neutral position in addition to the on/settings.
Universal Power Conversion stocks manual pneumatic valves from trusted manufacturers, including
AirTAC
,
Airtec
,
Mead Fluid Dynamics
, and
MFD Pneumatic
. Select from various port sizes and actuation types, including foot pedal valves, toggle and rotary style hand levers, and push/pull valves. If you need something other than what we have listed below, our team will help you source the right manual pneumatic valve for your application.
Choosing a Manual Air Control Valve for Your Pneumatic System
Each type of manual air control valve has different advantages. Aside from pressure requirements and port sizes, you should also consider your mounting and actuation requirements.
Hand-Level Manual Valves: These air control valves are best for panel mounting applications and come with a detent or spring-return actuator.
Push-Pull Button Manual Valves: Achieve different positions by pushing or pulling the actuator. These manual valves have a compact footprint to fit in tight spaces. The detent actuator helps keep the valve in position.
Foot Pedal Manual Valves: Select this option for applications requiring hands-free operation of your pneumatic system. These manual pneumatic valves have a non-locking foot pedal and spring-return actuator.
Find Pneumatic Manual Valves in the Exact Style and Configuration You Need
Get smooth manual operation regardless of which actuator you use for gas flow control. Explore the manufacturer brochures below for more information, or shop our full inventory of
pneumatic valves
for compressed air systems. If you have questions about a specific product or need further assistance, our team is here to help!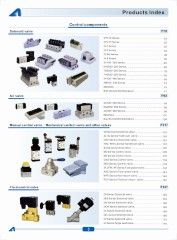 AirTAC