Pneumadyne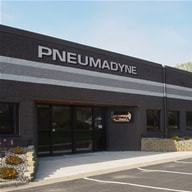 History & Milestones
Established in 1975, Pneumadyne was developed out of the industry's need for a better miniature pneumatic valve. Over forty years later, we are known as a leader in the design, development, manufacture, and integration of fluid handling devices.
Bimba Manufacturing Company acquired Pneumadyne in August of 2012. Our innovative approach to product development, high-quality products and a strong focus on customization was a natural fit with Bimba's overall business philosophy. Inherent synergies found across both companies provide limitless opportunity for customers of both Bimba and Pneumadyne.
Design & Engineering
Pneumadyne's success lies chiefly in the design and engineering capabilities acquired through years of developing pneumatic products. Our highly experienced engineering staff works closely with our customers to ensure components, as well as complete systems, fit specific application requirements. Dedication to engineering excellence contributes to the manufacture of what we believe to be the finest pneumatic components available. Several patents have been issued for our robust and unique designs.
Manufacturing
Manufacturing quality is ensured through strict process control of CNC equipment. From our multi-axis Swiss screw machining centers to our vertical milling centers, precision manufacturing guarantees the accuracy of the component parts which are the building blocks of our final product. Our state-of-the-art machine shop features:
21 Swiss Multi-Axis Turning Centers
1 Horizontal Machining Center
7 Vertical Machining Centers
All of our machines are able to accommodate a wide variety of materials from aluminum, brass, steels and stainless steels to plastics such as nylon and polypropylene. While the Milling Centers can accept large pieces of material, our Turning Centers quickly and efficiently cut bar stock sizes ranging from 5/64" to 1 1/8". Secondary services such as heat treating, plating, laser etching, grinding and pre-applied sealants can also be provided.
Quality Control
ISO 9001:2008 certification, received in 2004, demonstrates our commitment to quality. Stringent quality management systems, standards, and guidelines ensure that we are producing products that meet and exceed the highest of customer standards.
Products
Pneumadyne is recognized around the world for designing and manufacturing high-quality directional valves, pneumatic fittings, and manifolds for use in a wide variety of industries. Over the years, Pneumadyne has grown from a manufacturer of miniature pneumatic valves to a designer and manufacturer of pneumatic system solutions. Providing products, whether they are standard or custom, which solve problems and exceed customer expectations continues to be our goal.
Our Mission
Pneumadyne, Inc. continually strives to be a leading manufacturer of fluid control components and systems for distributors and OEMs worldwide. With a proven understanding of the design, technology and precision manufacture of fluid controls, we seek to create solutions for our customers providing them with a competitive advantage.
By encouraging all of our employees to pursue their highest potential in an atmosphere of growth, opportunity, and training, consistent with the values of teamwork, pride, honesty, and reliability, we are confident these goals are attainable.

Manufacturing
Capabilities

Miniature
Pneumatics

Industries
Served

Quality
Assurance