Airtec ZX & ZR
Airtec Series ZX-Rodless Cylinder

Premium Line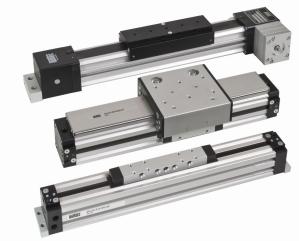 The ZX Rodless Cylinders, are c
ompact pneumatic linear actuators with or without guides designed to save space. Our "K" series can be as much as 30% shorter for the same stroke as our competitors. Specially engineered polyurethane seals that mechanically lock into the alumin
um profile provide high sealing characteristics and stick-slip free travel. Cylinders include integrated sensor grooves, adjustable cushions and permanent magnet for proximity sensors. Available without guide S and K Series, with adjustable slide guide SG and KG series or roller guides SR and KR series.
S and K Series without guide

SG and KG Series with adjustable slide guide

SR and KR Series with roller guides

Strokes up to 8000 mm (26.24 feet)

Available in 25, 32, 40, 50 and 63 mm bore

S, K, SG, and KG Cylinders can ship within 24 hours!
---
Application examples:
Automated manufacturing and assembly

Processing and packaging

Textiles and ceramics

Warehousing

Pharmaceuticals and chemicals

Food production

Test, inspecting and quality control
Airtec Series ZR-Rodless Cylinder with Toothed Belt

Premium Line