Trans-DOT Manual Valve
Trans-DOT Manual Valves
are revolutionizing the industry, delivering the highest quality at competitive prices. Based on a successful Alkon industrial design, Trans-DOT valves come in a large flow range for standard and low-temperature applications and are developed to perform in even the harshest environments.
SPECIFICATIONS
Applications Transportation: air brake systems, air suspensions and cabin controls for trucks, trailers, RVs, buses, and all transit and rail uses
Flow .5 – 4.00 Cv
Functions 2/2, 3/2, 5/2, and 5/3 blocked and exhausted center
Material Aluminum anodized bodies and aluminum spools
Mounting Inline mount, panel mount/through hole
Operating pressure See product specification.
Operators Manual
Port Sizes 1/8", 1/4", 3/8", 1/2" NPT standard (metric and other sizes available on request)
Pilot Pressure 40 psi standard, consult factory for other.
Trans-DOT Manual Valve Files
Alkon-Trans-DOT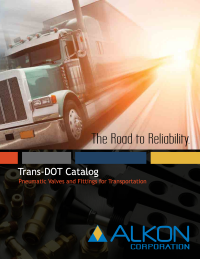 Download