Spring Feeding
The handling of the spring often causes a great challenge for workshops involved in assembly and installation work. Springs are typically supplied in bulk and are difficult to feed because they easily become tangled. Trying to untangle springs manually is time-consuming, which can increase assembly costs. As a more efficient alternative, these tasks can easily be carried out using spring separators that untangle and orient springs for automatic delivery to assembly points.
Spring Separators Are Efficient and Help Reduce Assembly Costs
Spring sorting machines help increase production line efficiency and are useful for cylindrical or conical spring shapes that interlock easily. Automatic feeder systems are easy to use and work with springs in a variety of lengths and diameters without the need for retooling.
When bulk springs are fed into glass bowl of the Afag FEG spring detangler and feeder, the system uses an air stream to agitate the springs and separate them. After separation, the untangled springs are fed through nozzles leading to nylon tubes that deliver the springs to a fixed location.
Afag's spring separator unit operates with the use of a simple mini controller and consists of a glass feeding bowl with the outlets, a control cabinet and a column support with foot plate. Additional features of the Afag automatic sorting machine include:
Bowl holds up to 0.5 litre of springs
Can be fitted with up to 6 outlets
Feeds springs at a rate of up to 60 pieces per minute
Compatible with spring diameters of 1.5 - 6 mm and spring lengths 1.5 - 6 x d
The automatic feeding rate depends on the type and size of the spring being used and can be calculated by feeding one litre of springs through the unit.
Contact us
if you have questions regarding which type of spring separator is best for your application.
Automatic Spring Untangler Accessories
To create a customized spring untangler system, Universal Power Conversion offers the following accessories:
Automatic escapement for use with pneumatically actuated drawers for up to six springs
Manual pick off unit that meets ergonomic requirements for manual assembly applications
Pen escapement tool for releasing springs into tight spaces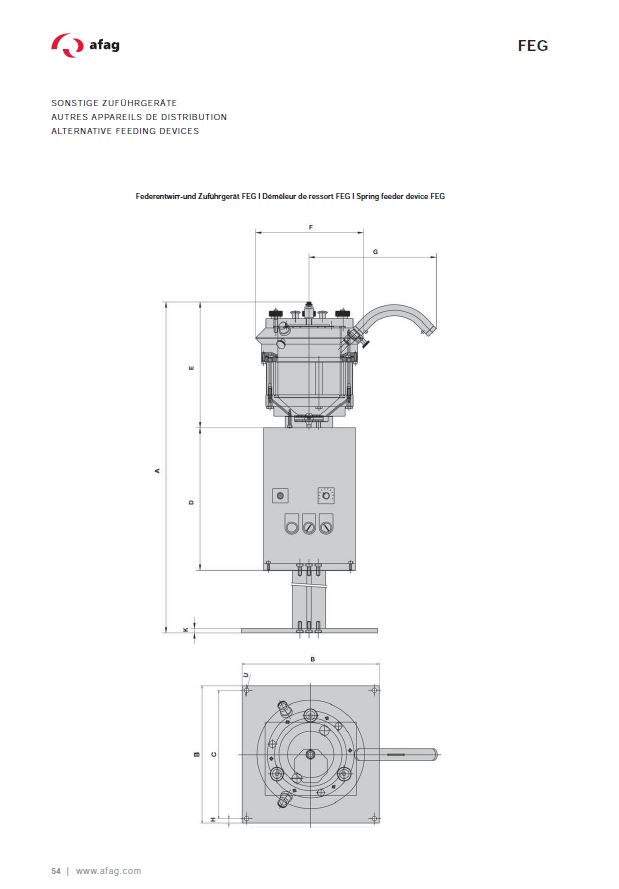 How Spring Manufacturers Can Design Favorable Springs
Because of their design, springs become easily tangled and are often difficult to separate, even with the use of automated feeder system. Below are design recommendations that can help reduce issues and increase the efficiency of spring handling technology:
Include a few tight turns at the end to prevent springs from welding together
Increase rigidity by including 2-3 tight turns in the middle of the spring
Bend the wire at the larger end of a tapered spring through the middle to prevent tangling within a feeder tube
Add a few tight turns on each end of a barrel spring to prevent tangling within a feeder tube
Contact Universal Power Conversion Today for Automation Components
Spring handling technology provides an effective solution for your spring untangling needs. Request a quote for an automatic spring sorter today or contact UPC to learn more.