Space Saving Low Profile Cylinders
Space Saver® cylinders by
Mead Fluid Dynamics
, provide the power and stroke of standard cylinders in less than half the space. They are ideal for use in machinery where space and weight are at a premium, and cost up to 50% less than standard models. They are built to last using oil impregnated sintered bronze rod bearings and hard coated cylinder bores that eliminate scoring.
Bore sizes: 3/4", 1-1/8", 1-1/2", 2", 2-1/2", 3", 4"
Uniform base thickness makes mounting easy regardless of stroke
Cylinders are ideal for use on drill fixtures and other automated tooling
Valve hookup is made easy because the top cylinder port swivels 360°
Pressure: 0-150 PSI (air only)
Temperature: -40°F to 250°F (to 400°F with Viton)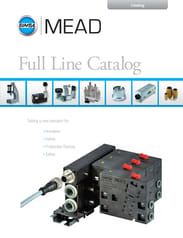 Contact Universal Power Conversion Today for Pneumatic Cylinders and more
Contact
UPC
for more information about our Pneumatic Cylinders.