Handling Systems
A combination of manual, semi-automated and fully automated equipment is typically used to configure a material handling system. In designing a system, you need to consider the type of material being transported, including the size, shape, weight and configuration. Other important considerations include how you will utilize available space, ergonomic considerations for workers using the equipment, flexibility of the equipment and energy consumption of the automation handling system.
Universal Power Conversion offers automation handling systems that are characterized by their robustness, longevity and continuously high quality. Linear axes, rotational axes, rotary modules and grippers with either electric or pneumatic drives form the basis of our standardized Pick & Place handling systems.
The innovative handling technology from Afag and eps features material handling equipment with a finely tuned modular design that delivers precision and power. We provide customers with the ideal system for each modern assembly automation application and guarantee millions of load changes with the use of our handling products.
How Automation Handling Systems Can Improve Your Material Handling Process
Manufacturing facilities, warehouses and other facilities handle large volumes of materials rely on fast and efficient methods to manage the flow and transport of products. Industrial scale material handling systems are an ideal solution that combine manual processes and automation for successful material handling. Utilizing material handling equipment can help you:
Reduce downtime by streamlining handling processes
Improve ergonomics by reducing the amount of repetitive movement
Increase the frequency of material flow and production capacity
Provide improved workplace comfort and safety, increasing productivity
Evaluating Your Material Equipment Handling Needs
There are a few important things to consider when selecting a material handling system, and even after installation you should regularly review and analyze how well the system is performing. Important considerations include:
The type of product that is being handled, including its characteristics and any special handling requirements
System design and whether it is meeting your current or future application requirements
What, if any, equipment changes, or reconfigurations could be made to improve material handling and efficiency
Request a quote
for material handling equipment or
contact us
to discuss your specific automation handling system requirements.
Using Material Handling Systems to Increase Manufacturing Efficiency
Growing demands for increased productivity leave manufactures looking for more advanced solutions for their material handling applications. Efficiency is key, but you also need an automation handling system that is reliable, easy for workers to use, and provides a long service life.
Universal Power Conversion distributes a wide range of industrial scale modular handling systems from
Afag
that allow you to easily combine pneumatic and electric modules to create customized automated handling solutions. Their material handling equipment options include various pneumatic and electric modules for griping, turning, and moving items in a production line. Afag material handling equipment delivers up to 0,01 mm repeat accuracy and is supplied with the following:
2-year guaranteed service life
Free access to CAD data for all modules
High availability of components
Easy access to operating manuals via their website or mobile app
View the full product brochure below for additional information and features or
contact us
to learn more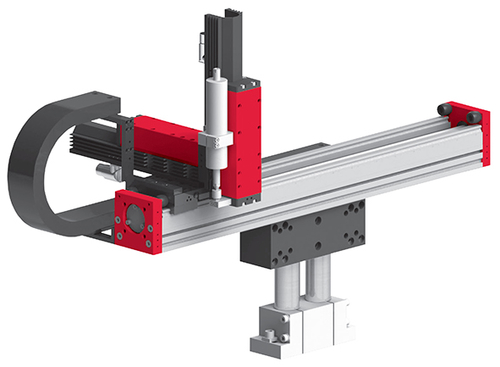 AFAG Handling System
Contact Universal Power Conversion Today for Automation Handling Systems
Universal Power Conversion is located in the Twin Cities and provides Request a quote for material handling equipment or contact UPC to learn more about our offering of advanced material handling systems.